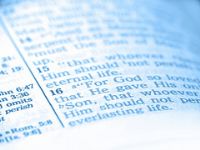 The Epistle of Hebrews
A Bible Study series on the Permanence, Sufficiency, Preeminence, and Superiority of Jesus Christ!
Jesus is the One upon Whom our faith rests and depends, from start to finish. The major purpose of this Epistle was to challenge and encourage one's spiritual development and maturity in Christ so to resist temptations and persecution by the building up of mutual faith and knowledge of Christ (Heb. 4:1-11; 11:10-16; 13:14).
Christ's blood was shed in our place to please God's wrath and pay the price so we could be forgiven and receive eternal salvation!
We are shown the importance of our continual spiritual formation. We are given the object of our faith, Christ; as He is the One who gives us our faith, we are to respond back to Him by faith. If we do not know His Word, the Bible, we do not know much about Christ and thus will not grow in Him. Our lives will backslide and fall to apostasy because of our spiritual laziness. Thus came a stern warning to take the Christian journey seriously and be faithful to our responsibility. If we turn our backs on Christ, we will be held responsible and receive the natural and supernatural consequences, even judgment. In this Bible study series we will learn how to persevere in our faith and be encouragers and equippers of one another's faith too, so we all can persevere, no matter what life and Satan throw at us, as we have our High Priest at our side!
Background and Setting This Epistle is about the God Who is here, the One who speaks. He is the God of promise and fact; He has an inheritance and an Inheritor and a role for us. Jesus Christ is greater than anything and everything! He is the fulfillment of the Old Testament; all that came before pointed to Him. This Book tells us of the Supremacy, Sufficiency, Pre-eminence, and Divinity of Christ. He is supreme over all...
Verse by verse inductive and exegetical Bible Studies into the Book of Hebrews:
Hebrews Bible Study Downloadable PDF Files
http://70030.netministry.com/images/HebrewsBackground.pdf
http://70030.netministry.com/images/Hebrews11-4.pdf
http://70030.netministry.com/images/Hebrews15-14.pdf
http://70030.netministry.com/images/Hebrews21-4.pdf
http://70030.netministry.com/images/Hebrews25-11.pdf
http://70030.netministry.com/images/Hebrews212-18.pdf
http://70030.netministry.com/images/Hebrews31-6.pdf
http://70030.netministry.com/images/Hebrews37-19.pdf
http://70030.netministry.com/images/Hebrews41-11.pdf
http://70030.netministry.com/images/Hebrews412-13.pdf
http://70030.netministry.com/images/Hebrews414-16.pdf
http://70030.netministry.com/images/Hebrews51-10.pdf
http://70030.netministry.com/images/Hebrews511-14.pdf
http://70030.netministry.com/images/Hebrews61-12.pdf
http://70030.netministry.com/images/Hebrews613-20.pdf
http://70030.netministry.com/images/Hebrews71-10.pdf
http://70030.netministry.com/images/Hebrews711-28.pdf
http://70030.netministry.com/images/Hebrews81-13.pdf
http://70030.netministry.com/images/Hebrews91-10.pdf
http://70030.netministry.com/images/Hebrews911-28.pdf
http://70030.netministry.com/images/Hebrews101-18.pdf
http://70030.netministry.com/images/Hebrews1019-25.pdf
http://70030.netministry.com/images/Hebrews1026-39.pdf
http://70030.netministry.com/images/Hebrews111-16.pdf
http://70030.netministry.com/images/Hebrews1117-31.pdf
http://70030.netministry.com/images/Hebrews1132-40.pdf
http://70030.netministry.com/images/Hebrews121-3.pdf
http://70030.netministry.com/images/Hebrews124-13.pdf
http://70030.netministry.com/images/Hebrews1214-29.pdf
http://70030.netministry.com/images/Hebrews131-8.pdf
http://70030.netministry.com/images/Hebrews139-25.pdf